November 2016 – Mission Mumbai – Our First Try-Out
November 2016 and I am in Mumbai..working with Nail Lounge Academy team to deliver
our First workshop for DesiSisters Mumbai,a small 'practice' run, where we will be testing out the concept and finding out what works and what doesn't.
Running 15th November to 18th November,and to be held at Nail Lounge Academy, Bandra, Mumbai, the workshop is all set to shake up social enterprise with a set of 'fun' products .
The workshop is already staffed thanks to a group of women from Santa Cruz West Rajasthani community, who will be coming together with me , Jen, and the team at the Nail Lounge, to work together for four days, and see what we can do.
Its all very scary and exciting…women on the workshop are being paid, everyone else is working for free, and women will be entitled to a 'proft share', a lump sum which they will receive later once goods are sold.
Products will be sold online and at home parties in the UK.
For this first run, the number of products will be small , and unusual 😉 but will give us an idea of how the project can run to benefit all, and a chance to talk together and find working arrangements that suit everybody, identify education needs and gauge interest in business training.
Women in the UK are also involved, some generally supporting, but some who will be distributing and selling for a % commission, thereby supporting each other within DesiSisters network, creating an 'abundance chain'.That is a chain of women, participating in business, with each making some form of profit, enabling each others success.
All profit will be fed back into the project for future development.
At the moment everyone on the team is working for free. Furure admin costs will be met by sponsorship shhould project require it.
Vision :
A Womens Collective/Social Enterprise, that not only trains and provides women with sewing work, but includes business training,education and profit share.
Innovative and experimental , the project hopes to raise the bar in terms of offering opportunities to women from deprived backgrounds that wouldn't normally be offered, i.e. business training.
The collective will produce unique goods to be sold online/around the world, and which will make the project financially sustainable, and promote a positive image of 'desi' culture.
Development of the project is to be gradual, employing Agile Business methodology to develop iteratively, responding to consumer and participant demand.
Admin charges for the project will be funded by affiliate sales from the website and sponsorship, so that all profit from goods can be fed back into the project.
Products ?
Desi Bears, Desi Dolls, the DesiSister Inspirational Cushion…and Bollywood In A Box – a collection of items designed to bring joy to every girls heart (Bindis,Bangles, Henna..complete kit for Bollywood tranformation/Desi'fication)
Background
Myself and Vaseem Kader met a few years back on another project and for a while I worked on the social media side for his company, 1SW.
Former manager of the UK's largest department store, Bombay Stores,owner of 1SW Events  (Amir Khans wedding, Coronation Street Dev's wedding etc).and member of the Kader family, Vaseem brings a significant amount of knowledge to the project .
Last couple of years Vaseem has run a 'charity drive' at Ramadan, collecting money from friends and business acquaintances , going down to the slums and delivering presents and gifts at Eid. That's where this idea started, when I messaged him on facebook , August last year, and suggested that we start something like 'Punjammies'.We've been emailing back and forth since… this is the first chance I've had to get out there and give it a shot.
Together we are going to do some 'Disruptive Business' (break the rules), using Agile business methodology, LEAN..some female empowerment and some recycling, as much as possible, using damaged garments, old stock, ends of rolls etc.
Before I forget, neither of us is taking any payment,expenses or profit form this project, not now or in the future. Vaseem has enough, I am on annual leave. If project grows, admin side to be funded by sponsors… like Charity Water..
I am going for three weeks,
First week – We are going to beg, steal and borrow equipment, fabric, haberdashery, scissors and pins..
Second week..we are going to run a one week workshop for a group of women, from the slums, women who really need some work. . and together we are going to make stuff…and talk about what those women want from their working life, their perfect 'business'.
ALSO .. we will be showing the women how to 'dropship', that is purchase, pack and export . A VERY important aspect of this project is that the women must be able to learn business skills.If you really want to empower women you don;t just give them a job, you make them employable anywhere..in time there is a whole host of business education I would like to add., but for now, export basics so that within time the women can operate independently.
At the end of that week we are going to 'launch' online,posting pictures of our 'stuff'  across the Interwebs ..( Instagram /Twitter /Facebook /Pinterest./website…everywhere 🙂 @desisisters
Third Week -SCRUM  we do what is called in Agile terminology , a 'scrum'. We get together and we go over the workshop, sales, what the women want, review skills set and personalities, talk about what works for everyone, and get a clearer idea of what we need going forward.
What doesn't sell will come back with me..in fact I'm hoping i have stock to bring back with me… arranged couple of Christmas market stalls ..and a couple of 'home launch' parties..
Profit Share
A % of profit will go back to the women who took part in the workshop, as soon as possible after the sale, a % commission will be paid to anyone who sells, either directly or online. So that a whole chain of women benefit along the way.
The admin side will be funded by income from DesiSisters website..affiliates/sponsors.
Mumbai Slum – This is where our workers will be coming from..or a slum very much like it..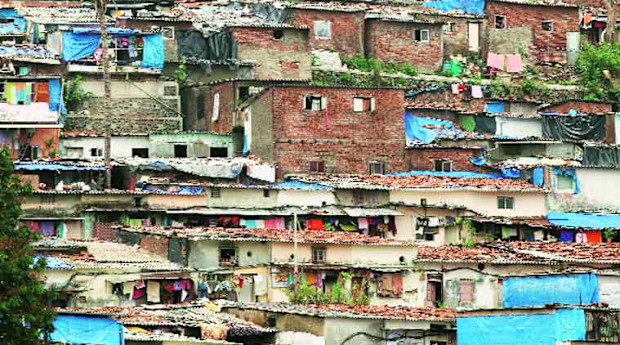 Sounds Good ?…
If you're interested in supporting us, we're not looking for great sums of money. We have sorted the venue, equipment,and are 'shopping' for materials in that first week. We have £100 in the pot for wages and again, first week there, will see how much more we can raise.,
I want this to be an amazing experience for them…the women in the workshop
Workshop Itinerary
Day One – Intro, demo some of the product ideas, create some sort of skills register
Day Two – groups of women try out each idea..choose their product
Day Three/Four – we make stuff
Day Five – we tidy off, we take lots and lots of photos, we post online,  and have a nice little finish party.
Its going to be amazing….
The 'Stuff'
There's an endless list of things we could make, but leading at the moment are :
Dolls.. Abandoned Barbies restored to their former glory , and equipped with a new 'Desi' wardrobe
Khaani Bear and friends.. Soft Toys in Saris..and some..
Bollywood In A Box – collection of items,jewellery plus some, designed to boost the senses..glitter,sparkle..and poss incense
THE FUNKY CUSHION – the worlds first 'inspirational ' cushion .. designed to lift your spirits with its quirkiness every time you see it – FIRST PROTOTYPE BELOW..( made here in UK… )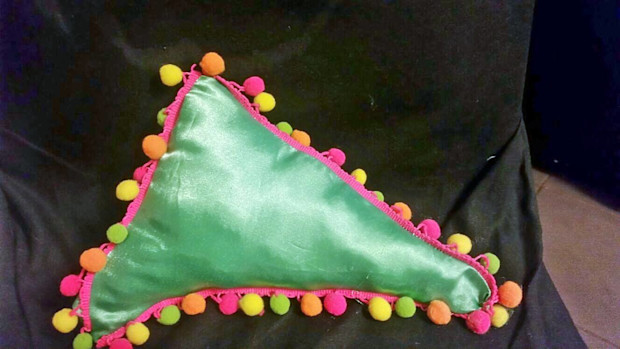 Salwar/Pajama  Leisurewear … of the unbelievably gorgeous variety..
There may also be covered notebooks, sari earrings and so on, it all depends on what we can get hold of, and we can easily make
Risks And Challenges
Its hot, its very different, I might curl up into a ball.. I;m British, its 90f , I might flake……unlikely but I might
I might get a tummy thing…it happens
Skills level ..we have no idea what skills the women already have,
Language we have covered.
Where are the women coming from ?
Other Ways You Can Help
feel free to send yourself dizzy sharing…
follow us anywhere online and get ready to back us up when we put our stuff online.. our women in Mumbai, help them get sold
make sure people know what these women are doing and help them get all the support they need
This is the story of a project very much in its infancy, an Idea, and a workshop and some people getting together for a practice run, see which of our ideas will really work, and what people might want to buy.
The Impact
Even if we fail, if the project flounders, we've given other people ideas, we've challenged the status quo…..
HOWEVER … If we succeed, and establish a social enterprise that grows the women, builds on their creativity, their intelligence, then, we raise the bar.. and we challenge the sweatshops…
and we could just , at least a little bit, genuinely support and empower, economically and personally, every woman involved in the organisation , both in India and here in UK.
If we allow the women to tell us what they want from work, working conditions, hours, childcare, emergency fund, we build a business around what women need … we 'facilitate' their success,
It all sounds rather grand, a bit over the top, BUT  with Vaseem on board to fill in the business knowledge needed, the contacts, and support..PLUS  the stuff I've learnt from business (Agile Business Methods), Disruptive Business, the social media stuff I know..and Desisisters 'network' I think we just might be able to do it….